Notice of Non-Affiliation and Disclaimer
Please note, the charities listed on this page are not directly affiliated with, maintained, associated, authorized, sponsored, or in any way officially connected with Local 255. Please contact the charities directly should you have any questions or concerns.

Calgary Firefighters Pipes and Drums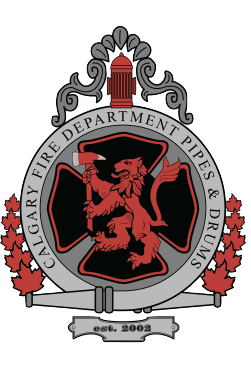 The Great Highland Bagpipes have a long and colourful history with the Calgary Fire Department. In one way or another, the pipes and drums have been around since the turn of the century.
In the summer of 2001, a group of firefighter/pipers began organizing what would soon become the "The Calgary Firefighters Piping Society." The original goal of the Society was to both promote the playing of the bagpipes and to standardize the dress and deportment for Fire Department Pipers.
Interest in piping and drumming within the department soon began to grow. By 2005, the Society had grown to fifteen members. The suggestion was made that the "Piping Society" be officially recognized as the "Calgary Fire Department Pipes & Drums".
Membership in the Calgary Fire Department Pipes & Drums is restricted to professional firefighters and employees of the Calgary Fire Department. Our members volunteer hundreds of hours representing and promoting the City of Calgary, the Calgary Fire Department and the International Association of Firefighters Local 255 at dozens of events per year. The Band is proud to take part in Fire Academy graduation ceremonies, funerals, parades and a wide variety of special events.
The Calgary Fire Department Pipes & Drums have travelled throughout Western Canada to take part in charitable events and memorial services marking Fire Service "Line of Duty Deaths."
Contact info
Please contact the Calgary Fire Department Pipes & Drums with questions at cfdpipesmanager@gmail.com.