Notice of Non-Affiliation and Disclaimer
Please note, the charities listed on this page are not directly affiliated with, maintained, associated, authorized, sponsored, or in any way officially connected with Local 255. Please contact the charities directly should you have any questions or concerns.

Calgary Firefighters Antique Brigade
What is the Calgary Firefighter's Antique Brigade?
The Calgary Firefighters Antique Brigade is dedicated to the preservation of the trucks involved in our firefighting history. Our two 1920's vintage fire trucks are often accompanied by active CFD members from the Antique Brigade and play an active role in community events, official Fire Department functions and have brought much joy to some very special children.
Where can you find the Antique Brigade and Trucks?
We encourage you to join our Antique Brigade at the Calgary Stampede, Pride Parades, Canada Day celebrations, the annual Calgary Fallen Firefighters Memorial, and many other special community events throughout the year.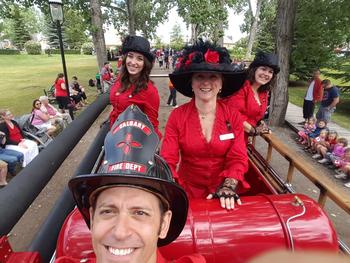 Contact
The Calgary Firefighters Antique Brigade takes great pride in ensuring that memorable firefighting icons of yesteryear are still accesible and available to all Calgarians. If you wish to inquire about booking a truck for your event or to help the antique group by way of donations or other means please contact us at
antique.brigade@calgaryfirefighters.org
or complete the form below.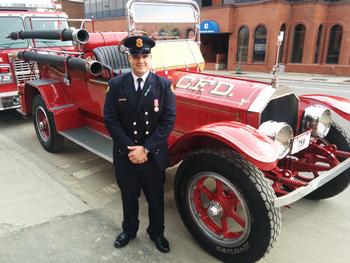 Antique Brigade: Request for Event Booking
Thank you for your interest in having the Calgary Firefighters Antique Brigade attend your event. Please provide the required information below so that we may book your event.
Disclaimer
Please be advised that we will make every effort to attend your event. However, due to the age and nature of the truck, there may be unforeseen mechanical issues that arise which will cause us to have to cancel on short notice. Also, being that this truck is an antique and an open cab, should the weather be unfavorable (rain, snow or hail) on the day of your event, we may have to cancel on short notice. Thank you for your understanding and cooperation.